TOC-Monitor PAITOC
Organic compounds play a predominant role as pollutants in aquatic systems. They affect biochemical processes, nutrient cycles, biological availability and others. Organic matter is usually measured as the Total Organic Carbon (TOC).
The PAITOC is a versatile automatic analyser to measure the TOC-concentration in waste waters, cooling waters and potable water.
Measuring principle
The PAITOC uses the well-established persulfate-digestion to convert organic material into CO2 that is measured by a NDIR-detector.
At first the inorganic carbon (TIC) is removed from the sample by purging after acidification. Then the sample is transferred into the UV-reactor and Sodium Persulfate is dosed.
For a user-adjustable time the mixture is exposed to intensive UV-radiation. The radical-driven digestion of organic compounds yields CO2 that is stripped off the mixture and transferred in the NDIR-detector.
The batch process takes about 10 minutes for most applications. The measurement interval is user-adjustable.
Layout
Electronics and hydraulic components are installed in separate compartments.  The electronics cabinet is made of powder coated steel with IP65 protection. The lower compartment is made of fiberglass-reinforced unsaturated polyester (IP44).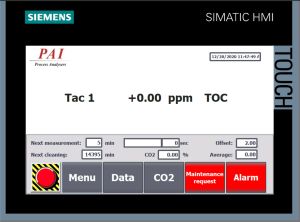 Handling
General control, Parameter setting and the visualisation of measurement results, error messages as well as maintenance requests are displayed on 7"-touch panel (Human Machine Interface "HMI". All menus are password protected to prevent unauthorized intervention. The screen displays measurement results numerically as well as graphically. For multiple channel instruments the values are displayed for each channel separately.
Results, alarms and maintenance messages are stored in separate memories on a SD-card installed in the panel.
By using only high-quality components we are able to deliver a very robust instrument with an excellent reliability. Down time for maintenance is just a few hours per year only.

All parts are easily accessible and are replaced in a few minutes. The user himself can do all maintenance work. Down times of the instrument are minimized!
The PAITOC is fitted with an automatic cleaning system that keeps the instrument clean.
During operation the Ammonium-Analyser AMX only needs diluted sodium hydroxide to make the sample alkaline. Obviously the amount of NaOH consumed depends on the average pH of the sample and the measurement interval.

The ion exchangers in the ultra-pure water circuit have a life time of several months. The consumption of ion exchange resin is about 1 litre/year.
Any maintenance can be performed by the operator.

Required reagents are:

1M Sodium Peroxydisulfate 1.5ml/measurement and

5% Nitric acid 1.5ml/measurement.

The operating cost per measurement are approx. 10ct.
A maximum of 8 analog outputs (4 to 20mA) are available for concentration. Relay outputs are switched in case of a system fault or when maintenance is required.
Measuring principle: NDIR after persulfate - UV-digestion
Ranges (ppm): 0 – 100, 0 – 500, 0 – 1000, 0 – 5000, 0 – 10000 (others on request)
Measuring interval: > 15 minutes, adjustable.
Calibration: manual, automatic calibration or validation (option)
Reproducibility: +/- 5% end of range.
Drift: < 5% end of range in 72h without calibration @ 20°C
Sample: Atmospheric, sample pump installed; 0 – 40°C
Max. particles: 200µm
Outlet: Atmospheric
Reagents: Phosphoric acid (Nitric acid); Sodium persulfate
Supply: 85 - 264V AC, 45 - 65Hz, 100W
Analog output: (0) 4-20mA, max. 8 galvanically separated
Alarms: system fault, maintenance request, potential free, NC/NO
Display: 7"-TFT
Housing: 1000 x 500 x 340 mm (HxBxD), IP65 upper part with electronics, steel, powder coated, IP44 lower part, fiberglass-reinforced unsaturated polyester, window polycarbonate
Fire protection corresponding to UL 94-V0
Weight: Approx. 42kg
Environmental conditions: 0 - 50°C, 95% rel. humidity not condensing.
Automatic calibration and validation (option)
To reduce costs for maintenance an automatic calibration / validation option is available. If the new calibration or validation data don´t meet user-adjustable specifications an alarm is triggered.
Multiplexer for several sample lines (option)
Dependent on the application it is possible to measure more than one sample stream with one instrument by using a multiplexer. Up to 8 streams can be monitored by one instrument.
Digital in- and outputs (option)
In addition to the standard digital outputs for system fault and maintenance request in- and outputs can be installed for special demands like remote start/stop etc. 
For waste water applications a filtration may be necessary.
The implemented automatic back flush system keeps the filterelement clean and ensures almost maintenance free operation.
The back flushing is either controlled by the analyser or by seperated controller.
All wetted parts are made of PVC and stainless steel.